And the reason why I just vommitted my summary about talking to Star Wars writers (below) at ComicCon was really to add context to my heavy discontent about recent developments in the Star Wars: Fate of the Jedi series as surmised by Tricia the FanGirl at FanGirlBlog.com.

[First off I want to say that Fangirlblog.com is a great blog and Tricia does a great job articulating why Star Wars Expanded Universe has disappointed me in the women-depicting department recently--not that the franchise has ever had a great track record. I don't always agree with her (on intersectionality stuff, especially) but it's a good read if you're a lapsed EU fan like me!]

So the most recent book, Fate of the Jedi: Ascension, came out this week. The cover features Ben Skywalker (Luke Skywalker's son) and Vestara Khai (who apparently shops at Hot Topic, is at least 20th in the string of white female love interests for any male character introduced in the books.) Vestara was raised by The Lost Tribe of the Sith. She is the only standout character Ben's age in the entire story.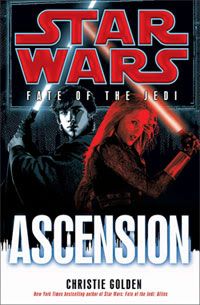 Since there are no gays in Star Wars and the mere suggestion of including them sends fans into conniptions about a "ridiculous politically correct claptrap designed to shove a political agenda down the throats of readers" we can assume that Ben Skywalker is straighter than Camilla Parker-Bowle's tampons, and further conclude that Vestara was a transparent play at an age-appropriate love interest for Luke Skywalker's only child.

Of course this is how their love scene plays out (in a book written by and edited by women), via fangirlblog:




The scene occurs on pages 173 to 181 in the book. Ben breaks into Vestara's locked bedroom and demands that she show him her private files on her computer. He's not doing this just to be a jerk, of course; he was at first worried about Vestara, then as the scene progresses worried that she might still be betraying the Skywalkers. He tries to seize the computer from her, then grabs her wrists. Defending herself from his intrusive verbal and physical demands, Vestara Force-shoves him away. In return, Ben uses the Force to slap her across the face – the ultimate iconic "put a woman in her place" action by a man.

Their confrontation degenerates further. Ben prevails by using the Force to bind Vestara in her bedsheets – no crass symbolism of male sexual domination there – and then proceeds to read her private files despite her sobbing and begging him not to.

When he does, he realizes that he has in fact intruded into her deepest personal emotions, the equivalent of reading a teenaged girl's diary. He apologizes and consoles her by spooning with her on the bed. The scene ends with Vestara proclaiming to Ben that she wants to become a Jedi, and their first kiss.


It would be difficult to draw up a more classic scene of domestic violence. Escalating tension between the couple leads to a violent confrontation, followed by contrition. Ben has forcibly violated the privacy of Vestara's bedroom, the sanctity of her private diary, and the dignity of her body. Immediately thereafter, though, Vestara expresses in words her desire to join the light side and in actions her love for Ben – and we're supposed to believe that these emotions are reliable and real? This young woman has just been abused by her boyfriend. She doesn't have clear thoughts or honest emotions at that point – especially because it's the first time he's dominated her in this way. For any person, male or female, who experiences this sort of event with an intimate partner, the predominant initial reaction is usually profound shock. </p>...Ben does not act like he has done anything wrong. There are no more apologies, and in fact no further references to the abuse having even occurred. Vestara is not traumatized in the slightest, apparently; there is no fear or withdrawal, no outrage or distance. The remainder of the book reveals no recognition of the seriousness of what was portrayed in this abusive incident.


Ew.